It's never a great feeling when your bank informs you of an account breach. You wonder, do police investigate identity theft, or will the bad guys get away? Unfortunately, the cops have an uphill battle on their hands for several reasons. That's why Blackman Bail Bonds chose this as our latest topic.
Do Police Investigate Identity Theft Charges?
Pennsylvania state law says that it is illegal to commit identity theft. If you become aware of these crimes happening, you should contact the police right away. 
The unfortunate thing is that those who commit identity theft are good at what they do. When criminals use false names, addresses, and other details, it becomes hard to prove. Add in private VPNs and Deep Web access, and cybercriminals can hide nearly anywhere. This is why many people give up on seeking legal action and focus on reversing the charges.
Can Retail Stores Help the Police Investigate Identity Theft?
Law enforcement often turns to retail store owners for leads in identity theft cases. However, gaining access to records can mean a lot of paperwork from you first. Even with security cameras, a legal defense could argue that it's not enough to prosecute. Without having footage of the thieves in the process, it can become challenging.
Businesses are required by law to inform users and law enforcement of any breaches. Beyond that, they don't have many responsibilities to pursue these criminals further.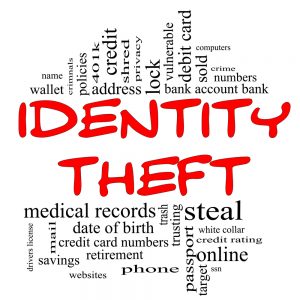 Does Identity Theft Only Happen Online?
Another reason why identity thieves get away is because they don't always need Wi-Fi. Skimmer devices are a popular method and some happen without electronics at all.
A common occurrence is criminals using a relative's details when they're arrested. They offer a false identity, usually to avoid harsher sentencing due to past arrests. As a result, many people are unpleasantly surprised to hear that they have warrants. Identity theft isn't always about the money for the bad guys, but rather the opportunity.
What Can I Do to Prove Who I Am to the Police?
If someone has committed a crime in your name, it's best to surrender yourself. Once they confirm through your fingerprints who you are, they can update your records. 
For financial crimes, most banks will reverse the charges and repay you. The Federal Trade Commission even has a template to use when contacting your bank. Be sure to take the steps necessary to reverse the charges, but keep in mind that you have a short window to do so. In some cases, after 60 days, you won't be reimbursed and may still be held liable.
How Do Police Investigate Identity Theft?
Unfortunately, many hurdles can prevent the cops from helping all that much. First, you often need to deal with cops within the county that the offense happened. When you finally reach the right department, they may have specific requirements. Many cases end up stalled at this stage thanks to red tape.
Finally, you may need to be present at the trial to have the criminals sentenced. This is why many people prefer not to pursue thieves because of the hassle.
What Degree of Crime is Identity Theft?
Another reason why these cases are challenging is because they can vary in severity. Here in Pennsylvania, the threshold is $2,000 for whether or not it's considered a misdemeanor. If it's a conspiracy or scam, it can lead to extra charges. 
Repeat offenses also increase crimes to a second-degree felony with harsher sentencing. Another upgrade to the charges can occur when the victim is over 60 and is with their caretaker. No matter how minor the crime was, it's now a degree higher.
Can I Bail Out from Committing Identity Theft?
Depending on the gravity of your charges, you might qualify for bail. Since this is a potentially serious crime, you could face higher release amounts, making it complicated. If your bail is posted at six figures, how will you pay it? That is when you call Blackman Bail Bonds 24-hours a day for bail agents.